Examination Policy
First things first. Ontario law requires our veterinarians to have a veterinary-client-patient relationship before they can administer medication of any kind, including vaccines. A physical exam that's been performed within a year is the minimum we need to establish and maintain that relationship at our hospital. If we haven't seen your pet within a year, he/she will need an exam before any medications can be prescribed.
Cost Transparency
We strive to provide your pet with the best possible care all the while being transparent regarding the associated costs involved.  We know that these times can be extremely stressful for your pet and your family, and we appreciate your trust in us through difficult situations. It is important to know the costs ahead of time.  It is a high value of ours to never surprise people with their bills.
It is our goal to provide you with a verbal or electronic estimate prior to every procedure over and above an exam. We encourage clients to discuss what their financial constraints might be so that we can develop a treatment plan that meets the medical needs of your pet to the best of our ability within any limitations. If you are unsure of what something might cost, please feel free to ask us.
Patient Arrival Policy
For your protection, and that of others, all dogs must be on a leash and properly controlled while in the waiting area or exam rooms. All cats must be presented in an appropriate cat carrier or on a leash. If your pet is coughing, sneezing, vomiting, or showing any other signs of a possible infectious disease, please keep your pet in your vehicle.  Immediately after you arrive at the clinic inform our team that your possibly infectious pet is here, we will quickly escort you and your pet to an examination room in order to prevent the waiting area from becoming contaminated.
Accessibility Policy
We are committed to ensuring that our policies, practices, and procedures are consistent in providing customer service to everyone.
Appointment/Cancellation Policy
In order to provide a high standard of patient care, we operate on an appointment basis. Appointments with the veterinarian will be scheduled for different lengths of time depending on the patients' needs. We ask owners to provide us with as much information as possible in order to schedule your pet accordingly.
Appointments with our Registered Veterinary Technicians and Veterinary Assistants may be scheduled for minor issues such as nail trims, vaccine boosters, anal gland expression, bloodwork and x-rays as ordered by your pet's veterinarian or weigh ins for seasonal prevention. Our staff reserves the right to book appointments with the appropriate team member as dictated by the pet's health condition and staff availability.
We ask that our clients provide us with at least 24 hours' notice when canceling an appointment. Failure to do this or 'no showing' for an appointment will lead to a $50 fee being added to your account which must be paid prior to booking another appointment.
Hospital Hours and Emergency Policy
If an after-hours emergency occurs, we advise you to call SmartVet or proceed to an emergency clinic. We do not provide 24-hour emergency services, nor do we provide 24-hour in-house patient monitoring. Should your pet require overnight hospitalization arrangements will need to be made to have your pet transferred to an overnight veterinary facility.
Payment Policy
Payment is due in full at the time services are rendered. Unfortunately, we are not able to extend charge accounts to our clients. Acceptable payment methods include cash, debit, Visa and Mastercard.  No personal cheques will be accepted. In some instances, a deposit may be required for significant emergency surgical procedures or hospitalized patients.
Financing may be available through third parties. We use and recommend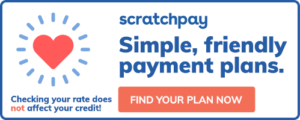 Scratchpay. www.scratchpay.com This is a simple process that can be completed in just a few minutes from your phone.
Refund Policy
Pharmacy laws in Canada do not allow the re-dispensing of medications once the medication has been dispensed to a patient. We are unable to ensure the handling, care and efficacy of the medication, because the health and happiness of our patients is our #1 concern, we are unable to accept any returns on medications.
Refunds may be issued for incorrect or damaged prescription products. Any incorrect or damaged prescription medication should be disposed of properly.  Please contact us with any questions on proper disposal.
If you are not completely satisfied with your purchase of a therapeutic or wellness diet due to palatability, please contact us to arrange a return.
Medical Records Policy
Obtaining your pet's medical records from your previous veterinarian is essential for the continuity of patient care. Having any records from other veterinary clinics sent to us prior to your appointment will help us be as prepared as possible to meet your pet's healthcare needs.
Euthanasia Policy
Euthanasia is an important and necessary procedure meant for the purpose of preventing unnecessary suffering when animals are terminally ill or injured. As it is a medical procedure, it is ultimately performed at the discretion of the Veterinarian as circumstances warrant. Our clinic offers End of Life Consults to discuss whether or not euthanasia of your pet is appropriate.
Euthanasia is appropriate when:
An animal is terminally ill and can no longer be satisfactorily palliated or managed.
An animal is so severely injured or ill that its prognosis for recovery with reasonably and commonly available treatment is very poor, grave or hopeless.
An animal has a condition that can no longer be managed by reasonably and commonly available treatment.
An animal has a severe aggression problem, and an appropriate treatment attempt has been made unsuccessfully.
Euthanasia is not appropriate in some cases and will be left to the discretion of the treating doctor. All clients who are inquiring about euthanasia of a pet we have not seen within a year or more will be booked a consultation with a veterinarian to determine if euthanasia is appropriate.
Abuse Policy
Be respectful to others. We have a zero-tolerance policy on any verbal or physical abuse (i.e. yelling, using inappropriate language, etc) towards any staff, clients or pets. You will be asked to leave the clinic and it may result in your dismissal from the practice.
Collecting and Using Your Personal Information:
We collect and use your personal information to:
Verify your identity
Comply with federal, provincial, local law and by-law requirements
Bill goods and services
Collect unpaid accounts
Send out health care product and service reminders via our software AllyDVM (mailed reminders will no longer be sent)
Make referrals to veterinary specialists and/or laboratories
Verify information with grooming or boarding facilities
Complete pet insurance information requests and claim forms
Information and surveys on your thoughts and opinions to allow us to improve services or service offerings
Your personal information may be collected, used or disclosed for any of the purposes identified above. If your personal information is not required for one of these purposes, we will not use or disclose it without your prior consent.
Social Media and Correspondence Policy
By becoming a client of Bright's Grove Animal Hospital, you authorize Bright's Grove Animal Hospital to send correspondence to the address, email and text provided to us and to leave messages either with a machine or with a person at the phone number(s) provided. We will obtain verbal consent before using a pet's photo on social media.