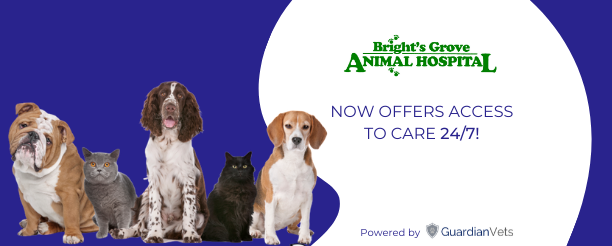 In our mission to constantly provide you with the best care possible, we have partnered with GuardianVets! Together, we will offer after-hours veterinary care support!
If you have medical concerns after hours, simply call our practice and you will have access to care at no charge.
We understand your pet's health doesn't follow a 9-5 schedule and sometimes questions may come up after hours. Our goal is to provide you with the best customer service possible and always be there for you when you need it.
To reach one of our on-call professionals:
Call our main number: 519-869-4228
Follow the prompts to speak with a professional.
Your call will automatically be connected to a licensed veterinary professional who will triage the emergency. No sitting on hold, no leaving a message with a service, and no cost to you.
Many times, our on-call veterinary professional can help prevent unnecessary late night trips to the ER, and will assist you with scheduling an appointment with the Bright's Grove Animal Hospital at your earliest convenience.
If the On-Call veterinary professional suggests you see a vet immediately, please see the below Emergency Hospital we recommend.